news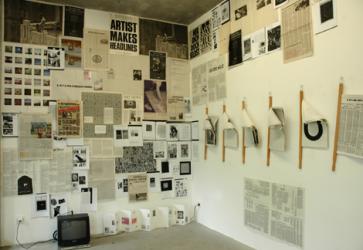 Newpaper Research and Reading Room

 

July 17 – 27 2010

Vernissage Friday, July 16th 2010,7pm

ARTISTS' NEWSPAPERS TALK by Eleanor Vonne Brown Friday, July 16th 2010,8pm

Pavillon am Milchhof // Schwedter Straße 232 // Berlin Mitte

Eleanor Vonne Brown and Michalis Pichler will put together a Newpaper Research & Reading Room gathering conceptual publications and/or artpieces that use form or content of newspapers, including works by:

Pierre Olivier Arnaud, Michael Baers, Fiona Banner, Derek Beaulieu, Erick Beltran, Anita DiBianco, Eleanor Vonne Brown, Matt Bryans, Gordon Cheung, Claude Closky, chto delat, Mirtha Dermisache, Brad Downey, Peter Downsborough, documentation celine duval, Jacob Fabricius (ed.), Hans-Peter Feldmann, Stephen Gill, Kenneth Goldsmith, Matthew Geller, David Greg Harth, Hildegard Karnath, David Keating, Jerry Kearns, Adrian Lee, Goshka Macuga, Mark Manders, Mark McGowan, Hugh Mendes, Jochem Hendricks, Michael Landy, Gustav Metzger, Carol Morley, Uriel Orlow, Michalis Pichler, Peter Piller, James Prez, Elizabeth Price, Javier Rodriguez, Allen Ruppersberg, Helke Sander, Karin Sander, Guy Schraenen (ed.), Tony Swain, Vibeke Tandberg, Zefrey Throwell, Anke te Heesen, Wolfgang Tillmans, Sue Tompkins, Kat Topaz, (U)LS, Günter Wallraff, Eric Watier, Eva Weinmayr, The Yes Men.